Our Staff
In this section you'll find information regarding the people, culture, and physical plant of our company. If you want to know where we're located, our hours of business, or simply what makes us tick, just follow the provided links for more information.
It's extremely important to us that our clients know whom they're doing business with, so please visit www.kwikkopy.com and find more information regarding the printing industry's "Digital Revolution." You will see why Kwik Kopy Digiprint has been recognized as leaders in providing business communication solutions.
Providing award-winning marketing for over 20 years. • Click here to read our customer testimonials!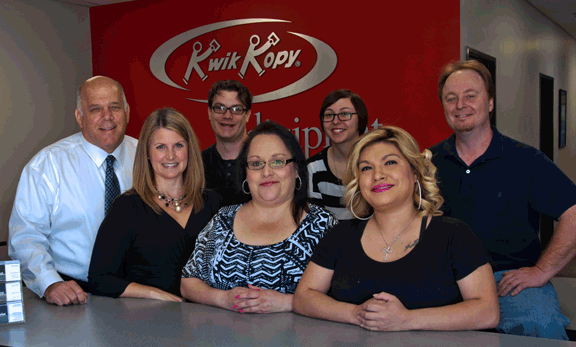 Although we're proud of our products, services, and technology, nothing matches the pride we have in our staff. You see, we learned long ago that we're really in the business of building relationships. For that reason, we put a premium on hiring only the most qualified individuals to serve on our team.
Every person on our staff is committed to providing excellent customer service and producing high-quality products and services to De Soto and surrounding areas. As you work with us in the future, we're confident that you'll find this to be true.